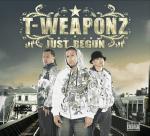 T-Weaponz, released one of the most anticipated albums, Just Begun…, a Defiant Entertainment production on September 25, 2007. T-Weaponz will be celebrating the digital record release of the trio's first album, Just Begun..., at the M1-5 Club in Tribeca on 52 Walker, New York, NY (at Church street) on October 10, 2007 at 6 p.m. Special guest DJ will include Boston's DJ Master Millions on the 1's and 2's.
Just Begun, features the hit single "Dem Boyz" which skyrocketed to #6 on Billboard's Top R&B/Hip Hop Singles Sales and #44 on the Hot Singles Sales charts. The album consists of 12 tracks including the smash hit "Mira Mira" featuring Notch. The new single "The New Ish" a bouncy Hip Hop party track is a prime example of T-Weaponz's forthcoming album and its diversity. Just Begun... also features super producer Fingazz of Streetlight Music, who is best known for his work with Snoop Dog, Kurupt, and the summer, hit single "Lean Like a Cholo." With its crafty lyricism and distinguishable rapping style this album proves that T-Weaponz will bring a fresh approach to the Hip Hop Movement. Allhiphop.com named "T-Weaponz...the most anticipated independent artists of the year."
T-Weaponz has pushed through the barriers and has revolutionized the game as they take over the Digital Movement. With over 70,000 digital download sales on sites such as iTunes it's only natural for Just Begun... to be released as a digital album. As independent artists they have scored over 15,000 radio spins combined, breaking through national radio airwaves and have rocked over 100,000 spins on their personal music myspace page.
Recently T-Weaponz was voted Most Dynamic Group or Duo at the 2007 Underground Music Awards and became animated characters in SCARFACE video game. They have appeared on popular TV and Radio shows such as "One Nation Under Hip Hop," on Mun2, "LATV Live" on LATV, "The Drop" on SiTV, and radio show "Pocos Pero Locos." Also look for Appearances by T-weaponz in October's (tale of the tape) and November's (Under the Radar) issue's of the Source Magazine. After years of waiting in the wings, the trio is poised to blaze into center stage and claim its spot in the limelight.
Contact:
To be placed on the guest list, to schedule an interview or for more information, please contact:
Sabrina Juarez
Sabrina@thegirlsent.com
646.573.2102
Or
Cristina Novo
cris@thegirlsent.com
347.350.3654
T-weaponz "Just Begun" On Itunes Now!.
"The weight is Over"
For more info visit:
http://www.myspace.com/tweaponz
For presskit:
http://www.defiantent.com/twpresskit.pdf
[center]